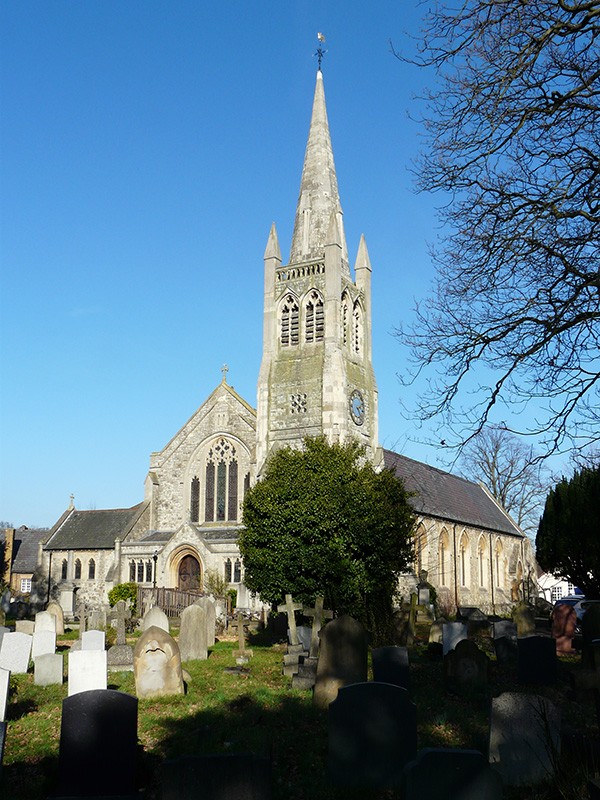 St John's Buckhurst Hill
Under floor heating installed
St John's was built as a chapel of ease to St Mary the Virgin, Chigwell, in 1837. Buckhurst Hill became a separate ecclesiastical district the following year and the living was declared a rectory in 1867. Buckhurst Hill became a separate civil parish in 1895. Land for the church was given by Caroline and Jonathan Hatch Abdy, and Caroline's monument in the south aisle (died 1838) records that she 'contributed largely to the erection of this chapel'.
St John's was designed by Jonathan Savill of Chigwell. It was constructed of concrete blocks and occupied what are now the four eastern bays of the nave (not including the aisles). The use of concrete at this time is noteworthy, and Savill seems to have favoured the material. There was a small vestry at the north-east corner and a tower at the south-west corner which, like the present south-west tower, served also as the entrance porch. The building has been extended on a number of occasions especially westwards in 1878-9 by
T.E. C. Streatfeild, including the present tower and spire. The west front was completed in 1892 by the addition of a narthex and baptistery. The chancel was enlarged and clergy vestry added by J. O. Scott in 1896-7, and at the same time further alterations were made to the nave by Milne & Hall, including the addition of a clerestory and new west window.
In the course of a major reordering of the church in 2013, that included digging up the floor in order to install under-floor heating, a burial vault was discovered beneath the area of the original nave. It compromises six chambers, three on each side of a passage. At the south end of the passage is a flight of steps that seems to lead up to the base of the south wall of the original church.
It was at first thought that the roof of the vault would need to be lowered in order to allow under-floor heating to be installed, which would have involved taking down the brick vaults. In the event this proved to be unnecessary.
Church monuments include those to Edward North Buxton (1840-1924) and his wife Emily (1841-1929), and Johnnie Mann (1921-5). E.N. Buxton was briefly M.P. for Walthamstow, 1885-6, but is best remembered for his work as a conservationist; he played a major part in saving Epping Forest and Hainault Forest for public use, and he bought Hatfield Forest for the National Trust. Johnnie Mann suffered from osteomyelitis and died aged 4½. He is shown on his memorial leaving behind a toy steam engine and reaching up to taken the hand of Jesus. It was carved by Eric Gill, who was a friend of the family.