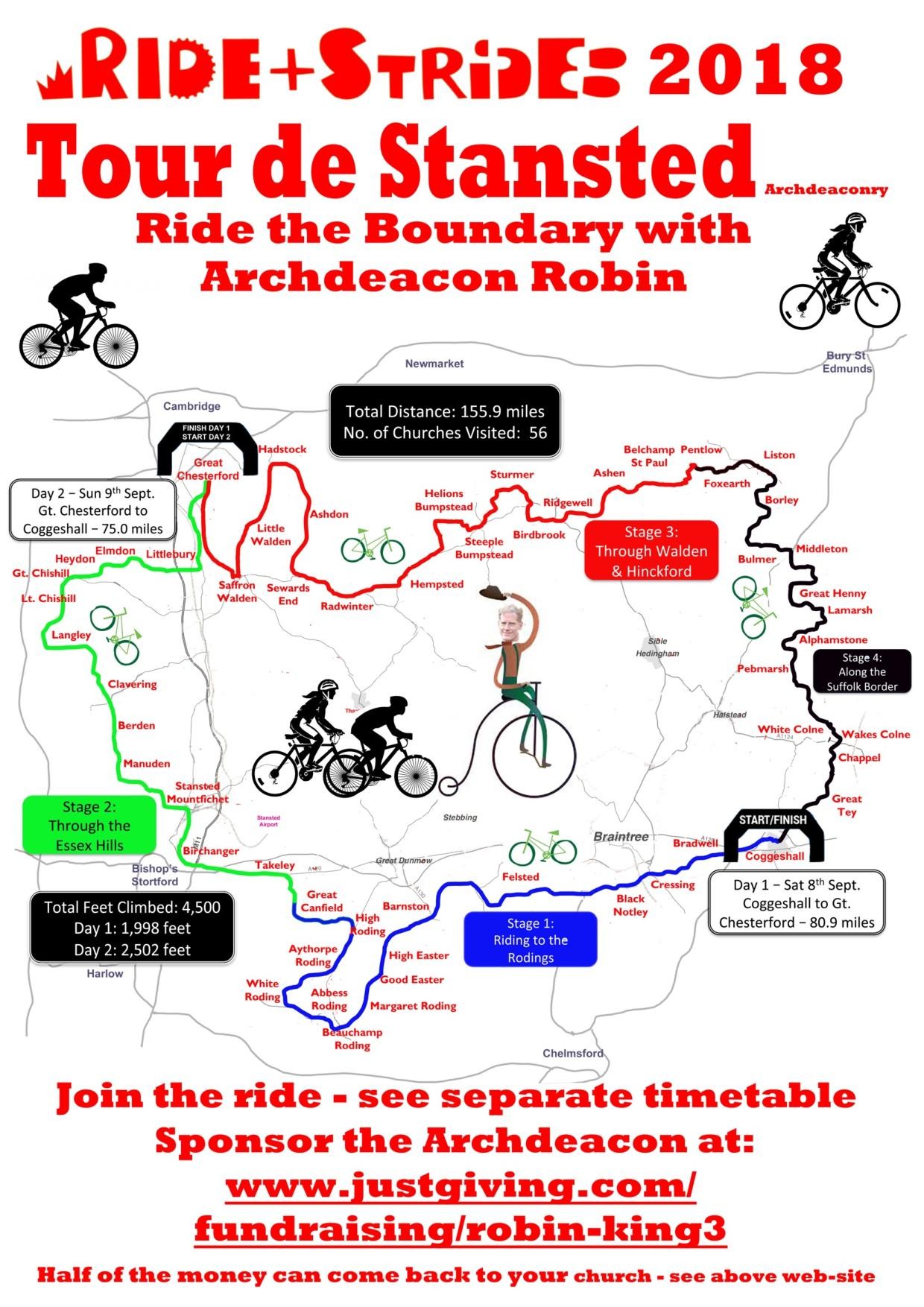 Tour de Stansted Archdeaconry
Dear Colleagues,
Not that long ago the annual National Churches Trust bike ride (organised by the Friends of Essex Churches Trust in this county) was a massively popular and fun day out. In its heyday it raised well over £100,000, but still managed a fantastic £60,000 last year. I think we should try to get back to that record total, as well as encouraging everyone to exercise and enjoy the beauty of the Stansted Archdeaconry on September 8th (and 9th) this year.
I am planning to join in myself this year, by circumnavigating the entire Archdeaconry (over the Saturday and Sunday - it's about 150 miles). I am very grateful to Nick Ellis (map expert) and Steve Hasler (cycling expert) who have put together a route that takes in all the parish churches along the border, whilst avoiding any major roads. Steve and I will be doing the whole route, but we would love people to join us as we travel around (both the Saturday and Sunday) – even if it's just for a couple of churches. Once we have settled on the details, we will send out an estimated timetable for the ride, so that everyone can see where we should be, and at what time. Of course, if anyone would like to join for the whole journey, they would be most welcome! We are planning on an average cycling speed of 12mph, 5 minutes at each church, 30 minutes for lunch at 15 minutes for tea (so roughly 9:00am-6:00pm both days).
Bishop Roger will be joining us for the start on Saturday (I've promised him he hasn't got to cycle very far…!).
My memory of organising this event in the parish was that we always planned to do it, but thinking about it before the summer was too soon and leaving it until after the holidays was too late… so it never quite got the attention it deserved. I hope that by sending this out early it might encourage someone in your parish to promote the event amongst your would-be riders and striders - and not make the mistake I made each year of leaving it too late.
Steve and I are thinking of writing a report at the end, citing the churches with the best biscuits...
Yours,
The Venerable Robin King
Archdeacon of Stansted
Sponsor the Archdeacon at: https://www.justgiving.com/fundraising/robin-king3
Documents